I first saw William play as part of the Blessing back in 1991 as I had been recording an album at Mike Westergaard's studio and Mike had just joint the band (Known then as "Just William") Various gigs at the roundhouse, the underground, the half moon asserted my dedication to the Blessing and especially the writing and vocal talent of William.
I spotted myself on the forthcoming William DVD in the front row of the Kentish town Forum gig when the "Live video " of flames was recordrd. Thats me in the stripey top and Blonde hair. I remember my girlfriend at the time rushing the stage to kiss Mike.
Amsterdam with Level 42 was a buzz and we smoked and ligged and enjoyed.
It is great that William is back and performing. In the last few months I travelled to Brighton and Tunbridge Wells to see him perform and I will put the photos on here from both gigs. I will see him perfrom next on the 23rd May 2005 at the 12-bar club in Tin Pan Alley which should be agreat warm up to his forthcoming Albert hall gigs in support of Mark Knopfler.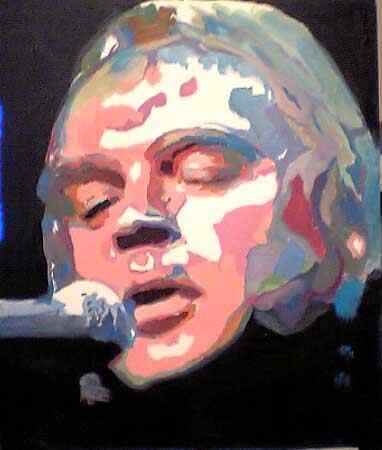 COMPETITION NEWS!!!!!!!
William has kindly signed a new canvas for James with the annotation "5 days a week". Jamesd will now work on the portrait and offer it to the William Topley fans as a prize watch this space for the competition news to win a James original painting signed by William Topley,